other titles...
See also...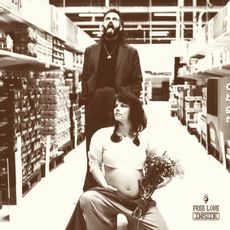 Le Mirage
Open The Door
Fight Or Flight
All The Same To Me
Golden Goose
Dans Le Noir
Don't Stop
Stop
It's A Feeling
I Become
dinked edition 229:
- "Blood Red Embryo" vinyl *
- Riso-print on 225gsm paper, designed by Sam Tomson (Bakkheia Records)*
- Hand-stamped, signed & numbered edition *
- Private link for a 53 minute mix of music that inspired the album*
- Limited pressing of 400
* EXCLUSIVE to Dinked Edition
Free Love
Inside
Lost Map Records
Paragons of the cross-pollinating Glasgow DIY scene, their rapturous psychedelic odysseys bop along so very nicely! House-quaking acid pop, celestial drones & yogic devotionals – by turns banging & blissed-out.
FKA Happy Meals, Free Love & their music are a conscious study in duality: thumping live tracks & meditational mantras, pop songs & esoteric experiments, acoustic & electronic instrumentation, lyrics in French & English, the Masculine & the Feminine, all side-by-side. Every time we've had this on the office stereo, ears prick up, heads nod, toes tap & the whole mood lifts.
"A groovy fever dream" – Line of Best Fit

"Music to move both body & mind" – Clash
FOR FANS OF: Yellow Magic Orchestra / Broadcast / Virginia Wing / Vanishing Twin / Lucy Gooch / Charlotte Adigery & Bolis Popul