Los Campesinos!
we are beautiful, we are doomed (2018 reissue)
wichita
---
their second album returns to our stereos newly remastered and sounding more incendiary than ever.
Impressively, the album was originally released just eight months after the band's debut and was the first album they recorded with their now long-time collaborator, John Goodmanson (Blonde Redhead, Sleater-Kinney, Bikini Kill, Wedding Present). The album's title track has become something of an anthem in the band's live set – providing a cathartic release as crowds singalong to some of the band's best lyrics.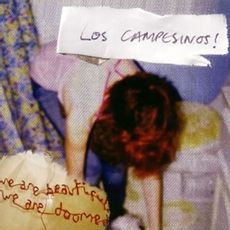 Ways To Make It Through The Wall
Miserabilia
We Are Beautiful, We Are Doomed
Between An Erupting Earth And An Exploding Sky
You'll Need Those Fingers For Crossing
It's Never That Easy Though, Is It? (Song For The Other Kurt)
The End Of The Asterisk
Documented Minor Emotional Breakdown # 1
Heart Swells/Pacific Daylight Time
All Your Kayfabe Friends