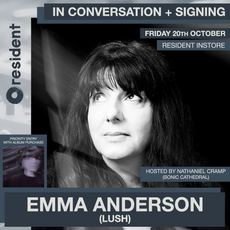 i was miles away
bend the round
inter light
taste the air
xanthe
the presence
willow and mallow
tonight is mine
for a moment
clusters
xanthe (alternative version) (dinked bonus flexi)
Emma Anderson
'Pearlies' in conversation with Nathaniel Cramp (Sonic Cathedral) & signing
at resident music, brighton - friday 20th october 2023 (all ages - under 14s can come for free)
this is guaranteed to be a 'lush' evening hosted by founder of sonic cathedral, nathaniel cramp! come celebrate, on the day of release, the launch of emma anderson's new effervescent electronic pop masterpiece!
• priority entry will go those who purchase the album with instore access. if we have space for additional entries on the day, we will be able to let extra people in.
• running timings : 6:00pm start.
• no actual tickets are issued for the show – you will get an order confirmation & your name will be added to the guestlist - you'll just need to give your name on the door.
• the release date for physical copies of this album is 20th october 2023. you will be able to collect the album at the show.
• please wait for an order notification to show your album is ready to collect before coming in to collect your copy.
• this page is for entry to the emma anderson event- to purchase copies of 'pearlies' without entry to the event, please head here.