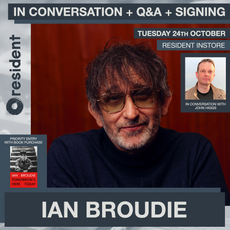 From recording the glorious uplifting psychedelic pop of his band The Lightning Seeds, to producing bands like Echo & The Bunnymen and The Fall, Ian has journeyed from the energy and potential of the 1970s punk scene to the madness of 90s indie – and out the other side.
Throughout nearly fifty years of making music, he has had a front row seat working with generations of fantastic musicians as they created countless ground-breaking records. In TOMORROW'S HERE TODAY, he reveals what he has learnt about creativity, how to work with musicians touched by genius, and what it is like to stumble through an exploding industry without losing sight of your dreams.
Along the way Ian shares how he wrote the million selling album "Jollification" and how – along with the comedians David Baddiel and Frank Skinner – he wrote and recorded the only single in chart history to reach number one in the UK singles chart on four separate occasions.
Following 2022's long awaited Lightning Seeds comeback, Ian reflects on a life of cosmic adventures spent in thrall to the power of music
Ian Broudie is a musician, singer-songwriter and producer from Liverpool. Well known for his band the Lightning Seeds, co-writing the anthem 'Three Lions' and producing bands such as Echo & The Bunnymen, The Fall & The Coral.
Ian Broudie
'Tomorrow's Here Today' In Conversation with John Higgs + Q&A + Signing
at resident music, brighton - tuesday 24th october 2023 (all ages - under 14s can come for free)
few musicians have lived a musical life as rich as the songwriter & producer ian broudie, JOIN US FOR what's bound to be a fascinating evening HOSTED BY john higgs...
• running timings : 6:30pm start.
• no actual tickets are issued for the show – you will get an order confirmation & your name will be added to the guestlist - you'll just need to give your name on the door.
• please wait for an order notification to show your album is ready to collect before coming in to collect your copy.
• priority entry will go those who purchase the album with instore access. if we have space for additional entries on the day, we will be able to let extra people in.
• this page is for entry to the ian broudie event - to purchase signed copies of 'tomorrow's here today' without entry to the event, please head here.