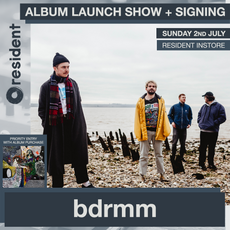 Alps
Be Careful
It's Just A Bit Of Blood
We Fall Apart
Advertisement One
Hidden Cinema
Pulling Stitches
A Final Movement
Bdrmm
'I Don't Know' Album Launch Show
at resident music, brighton - sunday 2nd july 2023 (all ages - under 14s can come for free)
we're thrilled to NOT ONLY HAVE AN EXCLUSIVE VERSION OF 'I DON'T KNOW' BUT ALSO TO HAVE BDRMM SWING BY FOR A VERY SPECIAL INSTORE PERFORMANCE TO CELEBRATE!
• running timings : 6:30pm start.
• no actual tickets are issued for the show – you will get an order confirmation & your name will be added to the guestlist - you'll just need to give your name on the door.
• the release date for physical copies of this album is 17th february 2023. You will be able to collect the album at the show.
• please wait for an order notification to show your album is ready to collect before coming in to collect your copy.
• this page is for entry to the bdrmm show - to purchase copies of 'i don't know' without entry to the show, please head here.