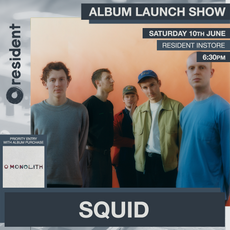 event exclusive cassette


limited print

swing (in a dream)
devil's den
siphon song
undergrowth
the blades
after the flash
green light
if you had seen the bull's swimming attempts you would have stayed away
squid
'O Monolith' album launch show
at resident music, brighton - saturday 10th June 2023 6:30pm (all ages - under 14s can come for free)
we are overwhelmed with excitement to have brighton boys squid playing for us in the shop! it has been amazing to see them grow as a band and any resident that has had the pleasure to witness them live can agree that this will be a must see!
• running timings : 6:30pm start.
• no actual tickets are issued for the show – you will get an order confirmation & your name will be added to the guestlist - you'll just need to give your name on the door.
• the release date for physical copies of this album is 9th june 2023. you will be able to collect the album at the show.
• they will be signing the records before the show so you will not be able to pick up the album before the event.
• please wait for an order notification to show your album is ready to collect before coming in to collect your copy.
• this page is for entry to the squid instore show - to purchase copies of 'o monolith' without entry to the show, please head here.