Radiohead
a moon shaped pool
XL
---
on their 9th album, thom & co have delivered a record that is overwhelmingly beautiful, sad & uplifting all at the same time - it's everything you need from a radiohead album.
opening with the rousing, edge-of-your-seat 'burn the witch' & closing with fan-favourite (& finally committed to tape) 'true love waits', this is a record in constant motion; from the atmospheric minimalism of 'daydreamers' to the skittering, claustrophobic beats of 'identikit' - it's a spectacular display of five people working in perfect harmony to create the best work of their career, yet again. "pushing their compositional skills relentlessly forwards...'A Moon Shaped Pool' marks a frequent relaxation into more conventional songcraft" 4/5 - the guardian

tom recommends: "With their 9th album my favourite band have exceeded all expectations of what anyone thought they were capable of (and expectations were already pretty high!). Beautiful, angry, uplifting and weird all at once"

natasha recommends: "my love for radiohead has never waned but with this album, it's found a whole new lease of life. an astonishing complex record that sounds deceptively simple & completely at ease with itself. a long term friend for sure"

derry recommends: "The sound of a band that have finally come to terms with being themselves & all the better for it."

**** **** ****

2LP - Double Heavyweight LP in Gatefold sleeve with silver foil cover plus Download.
2LP - Limited Heavyweight Double, indies-only, Opaque white vinyl LP in Gatefold sleeve with silver foil cover plus Download. One Time Pressing!!
CD - Gatefold sleeve with silver foil cover and 12 page full colour booklet.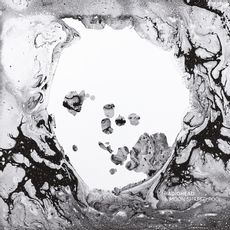 Burn The Witch
Daydreaming
Decks Dark
Desert Island Disk
Ful Stop
Glass Eyes
Identikit
The Numbers
Present Tense
Tinker Tailor Soldier Sailor Rich Man Poor Man Beggar Man Thief
True Love Waits