Porridge Radio
Every Bad
Secretly Canadian
---
As many of us have followed them around for years, we predicted big things for these Brighton locals but we never suspected they had something quite this special in them.
Songwriter Dana Margolin's vulnerability has been her constant strength and despite the nuanced and difficult subjects she takes on in her songs, she's always had some level of lo-fi production or guitar fuzz to shield her, thanks to the bedroom pop genesis of most of these tracks. However, on 'Every Bad', she unabashedly centres herself and the result is astounding.

That's not to say that the guitar fuzz and lo-fi production have vanished – far from it in fact. 'Every Bad' takes cues from Nirvana, who mastered underpinning anxiety with abrasion, Raincoats in their tendency to twist, turn and change a song without warning and Pixies in their ability to turn the aggression of grunge into a diverse and supple sound. So yes, they are clearly inspired by the bands of their youth but on these familiar foundations, something uniquely dynamic has been built. The jagged instrumentation complements Dana's rugged vocals and authentic lyrics perfectly, matching the mood of each song and manoeuvring effortlessly to enhance a lyricist who tackles sensitive, esoteric and existential subjects.

Despite this vulnerability, Dana never softens her edges or compromises in her lyrics. Her pronounced and very forthright uncertainty and confusion comes across as defined and unflinching – the only thing she can be certain of is that confusion. This is not music that moralises or offers answers to life's big questions – it is here to express raw emotional response with no interest in resolution.

That refusal to offer an easy way out is what makes it both so personal and so relatable. We may not have experienced the same situations, but we've felt those same nameless, onerous emotions. These guttural anthems amass into a defining album that's burst them out of their established Brighton bubble, got them Mercury nominated and has firmly planted them in hearts everywhere.
---
"[This] lyrically dense knock-out is a dreamy and complex gift for an undeserving world…a bold, brilliant record" - NME

James Canham says: "By far the most punk album you'll hear all year - musically it touches on Sonic Youth, Raincoats & Pixies but it's the lyrics that make it original. The album centres on Dana Margolin's internal battles, putting her conflicts front & centre & refusing to offer easy resolutions. It took a few listens to warm up to but the reward was more than worth it."

Kurtis says: "A culmination of years of seeing them at every possible venue in Brighton...& bloody hell was it worth the wait."

Ferg says: "I've been loving these songs at various gigs across the past couple of years & am happy to report that their jump to the studio has given them even more scope to realise & expand that vast creative vision of theirs. No quantity can sate my hunger for this brand of Porridge".

Ian says: "A flawless blend of angsty guitars & raw emotion with a decent helping of dream-pop thrown in. It's been a reliable soundtrack to a very strange time."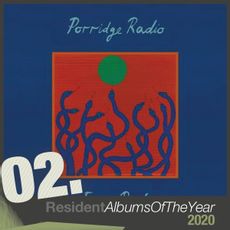 Tracklist
Born Confused
Sweet
Don't Ask Me Twice
Long
Nephews
Pop Song
Give/Take
Lilac
Circling
(Something)
Homecoming Song
deluxe edition format
Born Confused
Sweet
Don't Ask Me Twice
Long
Nephews
Pop Song
Give/Take
Lilac
Circling
(Something)
Homecoming Song
Bonus tracks :
Talking About It
Sweet (demo)
Good For You (ft. Lala Lala)
Let's Not Fight (Porridge Radio x Piglet)
Strong Enough (Porridge Radio x Piglet)
"nebula" 2lp :