Aaron Frazer
Introducing…
Dead Oceans
---
A timeless, vintage soul pours out of this majestic album that won us over at the beginning of the year.
Aaron's Smokey Robinson-esque vocals glide beautifully over Dan Auerbach's sublime production & it all comes together to make an album stuffed with warmth & dripping with passion
Soft-spoken with the look of a slightly disa ected 1950s matinee idol, Aaron Frazer possesses a unique voice that's both contemporary and timeless. On Introducing... -- his debut solo album produced by The Black Keys' Dan Auerbach, co-released on Easy Eye Sound and Dead Oceans -- Aaron melds mid-'60s soul with Auerbach's particular sensibilities ('Over You'), songs with a message in the key of Gil Scott-Heron ('Bad News'), and uplifting tales of love told through a blend of disco, gospel, and doo-wop ('Have Mercy').
The Brooklyn-based, Baltimore-raised songwriter rst came into the international spotlight as multi-instrumentalist and co- lead singer of Durand Jones & The Indications, but he's more than a revivalist act. "I didn't want Introducing... to be an exact recreation of an era or a style," Frazer says. "I'm excited to keep breaking some of the expectations around what exactly I'm supposed to be artistically and musically, or what this scene as a whole can be." On Introducing..., Aaron expertly calibrates consciousness-raising and the desire to be enveloped by love. Where previous records were written in a partial state of turmoil, Aaron's debut LP shows maturation and range. Introducing... is both loving and gracious, critical without losing hope, and a showcase of a young artist on a seriously soulful ascent.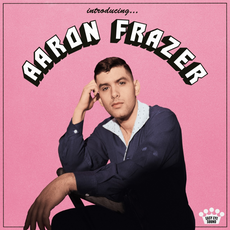 You Don't Wanna Be My Baby
If I Got It (Your Love Brought It) Can't Leave It Alone
Bad News
Have Mercy

Done Lyin'
over Girl
Ride with Me
Girl on the Phone

Love Is

Over You
Leanin' on Your Everlasting Love