W. H. Lung
Vanities
melodic
---
Another ludicrously luminous work - a bold electronic leap forward. Straight in. Get the party started. No messing. The return of our Album Of The Year 2019 winners has been a cause of immense celebration around these parts, as you might imagine. And they've not let us down. In fact, they've outdone themselves. 80s reference points (Tears For Fears, Bronski Beat, The Cure) underpin their transcendence but they manifest as gentle waves of warm nostalgia rather than overt tributes. The punchy & potent energy came from a lockdown craving for the dancefloor - one that we all too vividly recognise & appreciate. It's all about "dancing in sweaty rooms, enjoying the company of a collection of beautiful friendly strangers". Always.
"This deliberate blurring of high and low culture is part of the appeal, their songs juxtaposing simplicity with free-ranging experimentation" - the observer.
"...But even more key is their ability to seamlessly meld genres – krautrock, post-punk and synthpop, most prominently – to create songs that are fresh and exciting yet familiar-sounding and accessible."

NAT: After crafting such an intensely addictive debut that I still obsess over weekly, I couldn't see them coming anywhere close to reaching their own heady heights just 2 years later…& initially, I really didn't think they had. Turns out I just needed to get over my first love, move on & allow new love in my life again. "Come, babe, I can see whole new worlds in front of me". Once I'd opened my heart to the possibility that 'Vanities' could be the real deal too, it floored me. And does so every time anew. When I finally see these songs live, I'm gonna be a mess. Guaranteed. Showstopper, showstopper, showstopper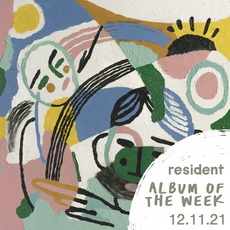 Calm Down
Gd Tym
Pearl in the Palm
Ways of Seeing
ARPi
Showstopper
Figure with Flowers
Somebody Like
Kaya
Dinked edition 127
Cream with green marble coloured vinyl *

Bonus yellow flexidisc with exclusive track *

Numbered *, fold out, double sided poster *

Reverse board outer sleeve

Custom Dinked sticker *

Limited pressing of 1000 *

* EXCLUSIVE to #DinkedEdition