MUNA
MUNA
Dead Oceans / saddest factory
---
When Phoebe Bridgers champions someone, we pay attention & although we've listened to Muna before, we really listened to this delectable synth-pop jewel.
Probably the most out-&-out pop record stationed among the ranks of Bridgers' thriving Saddest Factory imprint, she's enabled the band to unshackle themselves from a major label for their third album. It emits adhesive melodies like a super glue factory with a serious leak! Every second of production is immaculately pitched, with crisp beats & an inviting pool of reverb soaking into the pores of the sonic space.
Proper anthemic stuff that instils a constant urge to wave your hands in the air in time to the irresistible vocal hooks! There's no need to skip to "the good ones" either - just hit play / drop the needle, let it run through to its final spin & then probably start all over again. These artfully emotive songs immediately become a compulsion, inveigling their way into the deepest recesses of our hearts & minds & we welcome them with open ears!
Muna transport us to a world where anything is possible - a place where the disco ball's never stopped throwing sparkles on the walls. Nostalgic, sentimental, celebratory & yearnin' - it captures the teenage hyper-emotion & bottles it into a powerful set to regularly revisit & relish.
"It's amazing to see a band that are so unapologetically queer excel at their craft & create an album that is quite possibly, if not certainly, their masterpiece." - The Line Of Best Fit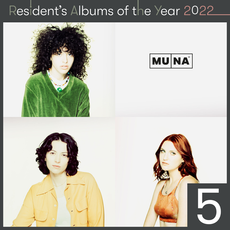 lp with resident excluisve signed poster



olive green lp
Silk Chiffon (feat. Phoebe Bridgers)
What I Want
Runner's High
Home By Now
Kind Of Girl
Handle Me
No Idea
Solid
Anything But Me
Loose Garment
Shooting Star