other titles...
See also...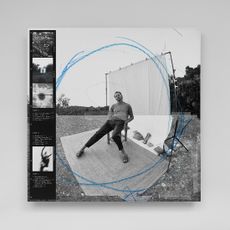 Tracklist / lp side split

Side A
1. Follies Fixture
2. What A Day
3. Crowhurst's Meme
4. Finders Keepers
5. Far Out
Side B
6. Rookery
7. You Have Your Way
8. Sage That She Was Burning
9. Sorry Kid
10. Unfurling
11. Metaphysical Cantations
Side C
12. Make Arrangements
13. The Strange Last Flight Of Richard Russell
14. Buzzard
Side D
BLANK
Ben Howard
COLLECTIONS FROM THE WHITEOUT
island records
Howard's fourth album, Produced alongside Aaron Dessner, stands as his most experimental yet, exquisitely blending lush indie folk with tranquil ambient production.
'Collections From The Whiteout' heralds the first time Ben has opened the door to production outside of his closer confines. The foreboding darkness that coated Ben's second record I Forget Where We Were and thinly veiled its follow up Noonday Dream, isn't so evident on Collections. These are songs written from headlines scanned, or news stories scrolled past. Ben has taken those snippets and let his curiosity take control, creating an aural scrapbook that reverberates with tape loops and guitar FXs. There are sounds akin to Brian Eno, Durutti Column and Steve Reich in there, but also Neil Young and Townes Van Zandt. It's a million miles away from Ben's multi-platinum selling debut, but a path plotted from Ben's then to his now isn't so far removed. The door was also left open to some new players too. Yussef Dayes, one of the UK's most innovative young drummer/producer' especially in the field of jazz features, as does Kate Stables from This Is The Kit, James Krivchenia from Big Thief, Kyle Keegan from Hiss Golden Messenger, and the aforementioned Aaron Dessner lent his hand too where needed. Long-term guitarist to Ben's band, Mickey Smith, remains a reassuring presence. Rob Moose, a long-standing arranger of strings for Bon Iver and a collaborator to Laura Marling, Blake Mills, and Phoebe Bridgers is also present, peppering the mix. A must for fans of josez gonazales, phil everum and early bon iver.