other titles...
See also...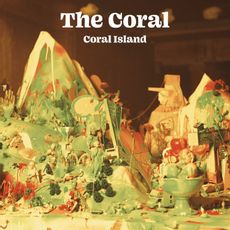 Side A

Welcome To Coral Island
Lover Undiscovered
change Your Mind
Mist On The River
Pavillions Of The Mind
Vacancy

Side B

My Best Friend
Arcade Hallucinations
The Game She Play
Autumn Has Come
The End Of The Pier


Side C

The Ghost Of Coral Island
Golden Age
Faceless Angel
The Great Lafayette
Strange Illusions
Summertime
Side D

Telepathic Waltz
Old Photographs
Watch You Disappear
Late Nights At The Borders
Land Of The Lost
The Calico Girl
The Last Entertainer

BONUS 7" (exclusive to dinked)

The North
This Love
To Lose A Friend
Time The Equaliser
The Coral Lazy Ole Sun


dinked edition 95
Clear Double Vinyl * (please note - this was originally advertised as a white edition but is in fact clear vinyl. There is no white vinyl edition)
Gatefold Sleeve
Exclusive Bonus 7" *
Signed Art Print
Numbered sleeve *
Limited Edition of 1500 *

* exclusive to dinked edition
The Coral
coral island
Run On Records / Modern Sky UK
The Merseysiders' 2021 offering took a lot of people by surprise – dedicated fans were blown away, lapsed fans returned & new fans were earned.
Their double album epic of retro but modern psych-folk-rock melodies sees them remain wilfully & charmingly idiosyncratic.
whether you've been with the coral since their celebrated debut in 2002, are a lapsed fan or have never heard of them before, the 10th body of work from the legendary merseyside band is a joy for the ears & the soul. The wheels rattle into the thrilling unknown on The Coral's first new music since 2018, finding the unsurpassed, metamorphic gonzo-pop five-piece in the company of crooks, sell-by-date candyfloss and plastic skeletons as they release Faceless Angel. Of misplaced memories from a place and time that might never have been, the track precedes a new and vividly evocative body of work from the legendary Merseyside band in the form of their TENTH and first, ever double-album: Coral Island. Squinting into the neon-lit penny arcades and draining an after hours glass with the displaced and dispossessed once the power is pulled, The Coral's latest caper concerns listeners with the light, shade, thrills and profound melancholy of coastal palaces packed with fun and fright. Both now and then, or perhaps never as fiction encroaches on reality, the feverous anticipation of a night amongst the screams, fights and romance of the fair become part of life on the newly-built Coral Island.