Saint Etienne
foxbase alpha (box set)
Heavenly
---
It's hard to believe that Saint Etienne's debut album 'Foxbase Alpha' turns 25 this year but the good news is that it still sounds as fresh, vibrant and relevant as the day it was released.
Often hailed as one of the most important DIY albums of all time, it became the first long player released on fledgling Heavenly Recordings in 1991 and went on to be nominated alongside 'Screamadelica' in the first ever Mercury Music Prize in 1992. This special edition triple vinyl box set includes the original album cut over two discs at 45rpm plus a bonus album (at 33rpm) of associated recordings from the era, most of which appear on vinyl for the first time. A one sided 7" single featuring a previously unreleased demo of Moria Lambert (vocalist for 'Only Love Can Break Your Heart') singing over a radically different version of 'Kiss And Make Up', plus a 32 page book and assorted inserts - including band photos, original press releases, Foxbase trading cards and a digital download code - complete the package.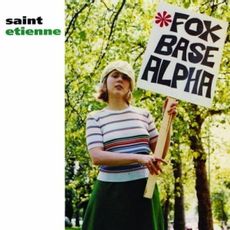 Tracklist
lp 1
This Is Radio Etienne
Only Love Can Break Your Heart
Wilson
Carnt Sleep
Girl VII
Spring
She's The One
lp 2
Stoned To Say The Least
Nothing Can Stop Us
Etienne Gonna Die
London Belongs To Me
Like The Swallow
Dilworth's Theme
lp 3
Kiss And Make Up
Filthy
Chase HQ
Sally Space
Sweet Pea
The Reckoning
People Get Real
Winter In America
Speedwell
Fake 88
7"
Kiss And Make Up (Demo)