Deerhoof
Halfbird (2019 REISSUE)
Joyful Noise Recordings
---
Deerhoof and Joyful Noise Recordings will issue the first ever vinyl edition of the band's third LP, Halfbird, on November 22, 2019.
Originally released in July 2001 by Menlo Park Records, Halfbird is 14 tracks of playful absurdity and pummeling energy, featuring founding member Greg Saunier (drums - guitar - vocals); Satomi Matsuzaki (vocals - bass); and Rob Fisk (guitar). 2019 sees the 25-year anniversary of Deerhoof being a band.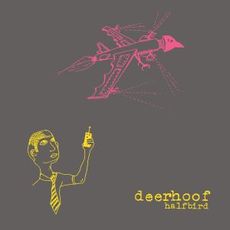 Tracklist
Halfrabbit Halfdog
Six Holes on a Stick
Red Dragon
Trickybird
The Man The King The Girl And The Spider
Witchery Glamour Spell
Queen Orca Wicca Wind
Sunnyside
Carriage
Littleness
Xmas Tree
Rat Attack
The Forty Fours
Halfmole Halfbird.