other titles...
See also...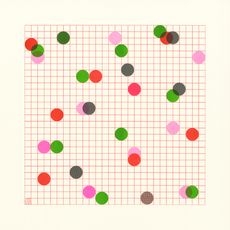 Fleeting Future
Sarinbuana
Divine Moments of Truth
Neo Tokyo
Longing for Tomorrow
Cogito
Concrescence
Yurikamome

Dinked edition 186

- Transparent red vinyl *
- 4 x A6 postcard set (by visual artist Sigrid Calon, riso printed, 1 signed by Akusmi) *
- Hand-numbered sticker *
- Heavyweight reverse board sleeve in PVC wallet
- Limited pressing of 300 *

* EXCLUSIVE to Dinked Edition
Akusmi
Fleeting Future
Tonal Union
with its hallucinatory, genre-defying blend of minimalism, cosmic jazz & fourth world influences, 'fleeting future' is an inventive & inspirational debut of limitless possibilities that sets it apart from the crowd.
akusmi is the new project moniker of french-born, london based composer, multi-instrumentalist & producer pascal bideau. this stunning record features additional contributions by florian juncker (trombone), ruth velten (saxophone) & regular collaborator daniel brandt of brandt brauer frick (drums / electronic percussion). bideau's richly colourful & multi-layered sound world was inspired by his journey to indonesia, where he immersed himself in traditional gamelan & gong music. saxophone, synths, brass & strings, make for an ebullient colliding of elements.
this stunning album is brought to you via the newly formed london/berlin based 'tonal union' imprint, set up by adam heron, who's been instrumental in the rise of the erased tapes label (nils frahm, ólafur arnalds, penguin cafe, a winged victory for the sullen, rival consoles) & is now label manager of matthew halsall's gondwana records (portico quartet, mammal hands, go go penguin, hania rani).
if you're familiar with & a fan of the roster of the aforementioned labels (as we are), you're going to absolutely love this (as we do)!!