brian eno
Apollo: Atmospheres And Soundtracks (Extended Edition)
umc
---
Eno's most mythologised work is both sensitively remastered and extrapolated upon for this expansive reissue.


Eno's ability to bottle infinite possibilities, profound isolation and very human warmth into a piece of plastic still sounds as ground-breaking today as it did some 36 years ago. Here, Eno, alongside brother Roger and Daniel Lanois, manages to find a new palette for music to exist in. It's this framework that all from Sunn O))) to Sigur Ros to Max Richter have expanded upon then hung their careers on. 'Apollo' wasn't the first to create space and beauty from dissonance and drone, but it illuminated a path to a brave new world of possibilities for where foundations laid by the Radiophonic Workshop could lead.

This new world uses a little to say a lot. Eno is a master of space and the crux of 'Apollo' lies in the gaps between the sounds - the cavernous room between the echo of a melody and the drone. When disruptive elements come in and out of focus, either with a bang or without you noticing until they take up the whole track, the dislocation of that space feels profound.

With such importance being rested on subtleties, it's absolutely essential that any remaster be gentle in not ruining the carefully smudged edges but still bold enough to coax out clarity in a way not available in 1983. This remaster limns new layers without losing any of the analogue warmth and charm. It's precisely because of this balance that the second half, with all new compositions by the trio, works so well.

These extra tracks slide in seamlessly - hearing them take off where the original 'Apollo' landed is the perfect way to extrapolate on this otherworldly masterpiece. It's noticeably less isolated, preferring more built up structure than the original, which allows the piece to evolve and find land. This new album means that this remaster contains so much more than the usual fare of extra demos and live tracks that a fancy remaster often entails - it is a complete work that not only contextualises but expands and completes the first half.

Expanded reissues of classic albums can be risky – hearing the sausage getting made can ruin the magic, while not adding enough can feel like a cynical cash in. 'Apollo: Atmospheres And Soundtracks' is the perfect balance allowing you to float further into Eno's universe than ever before, without seeing the edges of its possibilities.
"the additional material [is] entirely of a piece with the original, [serving] to deepen the original album's strange, wonderstruck mood" 4/5 – mojo.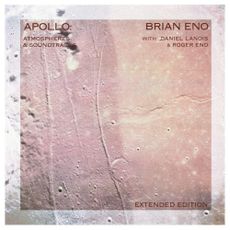 Tracklist
DISC ONE: APOLLO: ATMOSPHERES & SOUNDTRACKS – Remastered
Under Stars
The Secret Place
Matta
Signals
An Ending (Ascent)
Under Stars II
Drift
Silver Morning
Deep Blue Day
Weightless
Always Returning
Stars
DISC 2: FOR ALL MANKIND
The End Of A Thin Cord
Capsule
At The Foot Of A Ladder
Waking Up
Clear Desert Night
Over The Canaries
Last Step From The Surface
Fine-grained
Under The Moon
Strange Quiet
Like I Was A Spectator