other titles...
See also...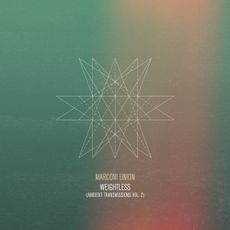 Weightless Part 1
Weightless Part 2
Weightless Part 3
Weightless Part 4
Weightless Part 5
Weightless Part 6
marconi union
WEIGHTLESS (AMBIENT TRANSMISSIONS VOL.2) (first time on vinyl!)
just music
Few albums can lay claim to being scientifically proven to reduce stress levels but Marconi Union's 'Weightless' has published research to back it up! Turn on, tune in, drop those cortisone levels all the way down.
'Weightless' topped a scientific list of the most relaxing pieces of music of all time, research suggesting that it can slow the heart rate, reduce blood pressure and decrease cortisone levels. The album includes the now iconic and seminal track 'Weightless' together with 5 more tracks, the latter derived from the ideas of the former, simply entitled Part 1 – Part 6. The tracks are minimal, combining warm drones and drifting sounds with occasional sparse rhythms. The inspiration for the album came after the band were commissioned to collaborate with a sound therapist from the British Academy of Sound Therapy and write a piece of relaxing music, the first "Weightless" track. When scientifically tested for its effectiveness scientists reported that their research indicated that the music slowed the heart rate, reduced blood pressure and decreased levels of cortisol, a steroid hormone that is released in response to stress. When the research was made public there was an instant and intense media reaction which continues to this day.