other titles...
See also...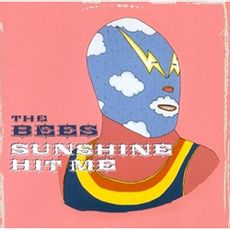 Punchbag
Angryman
No Trophy
Binnel Bay
Sunshine
A Minha Menina
This Town
Sweet Like A Champion
Lying In The Snow
Zia
Sky Holds The Sun
Seeds (cd bonus track - previously unreleased)
You Got To Leave (cd bonus track)
Elain (cd bonus track)
Whistle Chop (cd bonus track)
Jackel Head (cd bonus track)
Out For The Count (cd bonus track)
The Bees
Sunshine Hit Me (2023 reissue)
PIAS
These Ventnorians surged into our lives back in the dizzy days of '02 after supping from the psychedelic cup and, if you didn't get to quaff their aural honey back then, you're in for a sweet treat now! The Bees' debut has finally been repressed with added tracks and a fancily fitting colourway.
originally Released by Wall of Sound sublabel We Love You in 2002, 'Sunshine Hit Me' was recorded and produced by founding members Paul Butler and Aaron Fletcher in a home garden studio - aka "The Shed" - on the Isle of Wight, and went on to receive a nomination for the Mercury Music Prize, 2003. Singles from the album include "No Trophy", "Punchbag", and a cover of Os Mutantes' "A Minha Menina".

Remastered at Electric Mastering in 2023, this vinyl reissue marks the album's first ever repress and will be available as a limited edition 'mask' blue coloured vinyl, matching the album's iconic cover. This limited vinyl will also contain a download code for two bonus dub tracks.

meanwhile, the cd boasts A newly curated, expanded tracklist, featuring 6 bonus tracks, including a previously unreleased song, "Seeds".