other titles...
See also...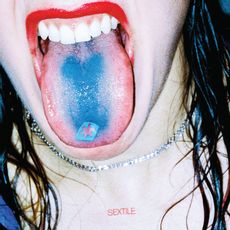 Contortion
No Fun
Crassy Mel
Lost Myself Again
Crash (feat. Izzy Glaudini)
New York
Basically Crazy
Modern Weekend
LA DJ
Plastic
Imposter
SEXTILE
Push
sacred bones
Who likes breaks? How about deep rumbling bass? Snarkily yelped vocals? If you've just hit an affirmative hat-trick, boy, have we got a band for you - Sextile will slather your ears up before rattling them senseless, good and proper .
Sextile are a party-provoking force on the LA underground, capable of kicking up a riot with the raw-edged squall of a synth or the sharp-elbowed jerk of a guitar. Sextile are now ready to rage with a serotonin-boosting new album, a new group dynamic, faster BPMs, and an even wilder new direction. Recorded in Yucca Valley, 'Push' bounces and bops at the fringes of hardcore dance music, with the hallmarks of drum & bass, gabber and trance illuminating the record like glowsticks at a '90s Fantazia rave."Contortion" introduces the album with shadowy vocals from Keehnand a '00s-ready twist of dirty electro bass, setting the tone for the dance-punk rave-up that unfolds across 11 attention-grabbing tracks.

There's plenty of historic teen angst and biting social commentary written into the album's vivid tales and misadventures. Balancing storytelling with face-melting synths that turn the tune into an acid trance character study, "No Fun" is penned from the perspective of a teenager trying to flee their town.A punk spirit underscores the album. The clue's in the name with "Crassy Mel," which partly serves as a high-energy dedication to '70s anarcho-punk legends Crass. The track's headbanging heft, vocal yelping, and Prodigy-shaped breakbeats accentuate the album's overwhelming sense of fun. Plus, the dreamy ambient wash at the end of the song is the ultimate palate-cleanser.

'Push' was inspired by the kind of pleasure-seeking music fans whose social calendar comprises both the punk show and the rave. Josh Wink, Iggy Pop, Goldie, and early XL Recording shave all been name checked as influences on 'Push', and the dancefloor remains a constant presence. Repping their place of origin, "New York" brings these musical touchstones off the page, guiding the album like an acid-soaked lodestar with its grinning nod to "Higher State of Consciousness" and a whirlygig of music-box synths. There are still nods and "hellos" to the caustic post-punk of Sextile's earlier work. Sextile haven't relinquished their punk credentials, they've just given them a smiley-faced revamp.