other titles...
See also...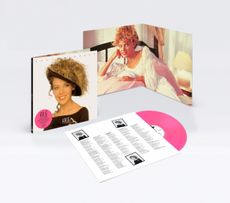 I Should Be So Lucky
The Loco-motion
Je Ne Sais Pas Pourquoi
It's No Secret
Got To Be Certain
Turn It Into Love
I Miss You
I'll Still Be Loving You
Look My Way
Love At First Sight
kylie minogue
Kylie (Remastered – 35th Anniversary Edition)
BMG
It might have been 36 years since we first did the Loco-motion but the sweet pop charms of Ms Minogue have been ever present in our record collections ever since! "You've gotta swing your hips now".
Kylie Minogue's classic pop debut, Kylie, was originally released on 4 July 1988 and is the first of four albums she recorded with the production powerhouse, Stock Aitken & Waterman. Released on the PWL and Mushroom labels, the album spawned six singles including 'Got To Be Certain', 'The Loco-Motion' and the global smash hit 'I Should Be So Lucky'. A huge commercial success, the record peaked at Number 1 in the UK for six weeks and became the fifth highest-selling album of the decade. It has sold over five million copies worldwide. This newly remastered LP reissue celebrates the debut album's 35th Anniversary and is pressed on Neon Pink vinyl in a gatefold sleeve. Kylie's glittering career has seen her amass sales of over 80 million records worldwide, five billion streams and eight UK No. 1 albums. Her multiple awards include three BRIT awards, two MTV awards and a Grammy, and she is the only female artist to score a No. 1 album in five consecutive decades in the UK. In so many ways she stands alone in the pop arena – a superstar artist whose constant reinventions and explorations keep her firmly rooted in the present while defining and celebrating much of our collective past. "Love and thanks to everyone who has loved this album for 35 years. Let's enjoy the magic all over again! Kylie x"