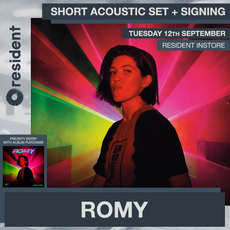 loveher
weightless
the sea
one last try
dmc
strong ft. fred again..
twice
did i
mid air ft. beverly glenn-copeland
enjoy your life
she's on my mind
ROMY
'Mid Air' short acoustic set + signing
at resident music, brighton - Tuesday 12th september 2023 (all ages - under 14s can come for free)
Romy returns to resident! it is no secret that we love the xx and their solo projects so we are beyond excited to welcome romy to celebrate her latest upbeat dance spectacular!
• running timings : 6:30pm start.
• no actual tickets are issued for the show – you will get an order confirmation & your name will be added to the guestlist - you'll just need to give your name on the door.
• the release date for physical copies of this album is 8th september 2023. you will be able to collect the album at the show.
• please wait for an order notification to show your album is ready to collect before coming in to collect your copy.
• this page is for entry to the romy show - to purchase signed copies of 'mid air' without entry to the show, please head here.