other titles...
See also...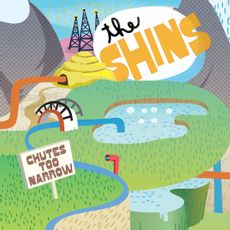 Kissing the Lipless
Mine's Not a High Horse
So Says I
Young Pilgrims
Saint Simon
Fighting in a Sack
Pink Bullets
Turn a Square
Gone for Good
Those to Come
the shins
Chutes Too Narrow (20th anniversary edition)
SUB POP
They might have barged into our lives with 'Oh, Inverted World' but 'Chutes.
..' was where they solidified their status as purveyors of brilliantly wonky indie pop - and it still sounds swell two decades on!. widely considered one of the best albums of the 2000s, this indie classic celebrates 20 years with a spiffy new remaster & a luxury repress. This 2023 edition of The Shins' beloved second album, 'Chutes Too Narrow', marks the album's 20th anniversary with a fresh remaster by Adam Ayan, supervised by band leader James Mercer. Following The Shins's breakout 2001 debut, 'Oh, Inverted World', singer/songwriter/guitarist James Mercer and drummer Jesse Sandoval moved from Albuquerque to Portland, OR and bassist Neal Langford was replaced with Dave Hernandez (ex-Scared Of Chaka), who played bass on the stand-out track from the first record, "New Slang." 'Chutes Too Narrow', their heavily anticipated follow-up, was recorded in James' basement home studio, with later mixing assistance from Phil Ek (Built to Spill, Modest Mouse, David Cross, Les Savy Fav, etc.). And, with 10 songs, clocking in at just over 30 minutes, Chutes Too Narrow is a brief yet entirely scintillating glimpse at chiming, reflective and perfectly skewed pop innovation.