other titles...
See also...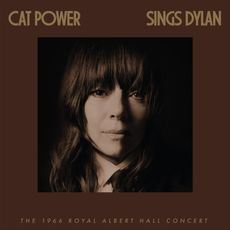 1. She Belongs To Me
2. Fourth Time Around
3. Visions Of Johanna
4. It's All Over Now, Baby Blue
5. Desolation Row
6. Just Like A Woman
7. Mr. Tambourine Man
8. Tell Me, Momma
9. I Don't Believe You (She Acts Like We Never Have Met)
10. Baby, Let Me Follow You Down
11. Just Like Tom Thumb's Blues
12. Leopard-Skin Pill-Box Hat
13. One Too Many Mornings
14. Ballad Of A Thin Man
15. Like A Rolling Stone

Cat Power
sings dylan - the 1966 royal albert hall concert
domino
What happens when an inimitable artist covers a legendary performance by another inimitable artist? You get a spellbinding work of folk-strewn excellence, of course! Fortunately the crowd were a little better behaved and swallowed their urge to riot when the electric guitar appeared this time round.
In November 2022, Cat Power took the stage at London's Royal Albert Hall and delivered a song-for-song recreation of one of the most fabled and transformative live sets of all time. Held at the Manchester Free Trade Hall in May 1966—but long known as the "Royal Albert Hall Concert" due to a mislabeled bootleg—the original performance saw Bob Dylan switching from acoustic to electric midway through the show, drawing ire from an audience of folk purists and forever altering the course of rock-and-roll. In her own rendition of that historic night, the artist otherwise known as Chan Marshall inhabited each song with equal parts conviction and grace and a palpable sense of protectiveness, ultimately transposing the anarchic tension of Dylan's set with a warm and luminous joy. Now captured on the live album 'Cat Power Sings Dylan: The 1966 Royal Albert Hall Concert', Marshall's spellbinding performance both lovingly honors her hero's imprint on history and brings a stunning new vitality to many of his most revered songs.