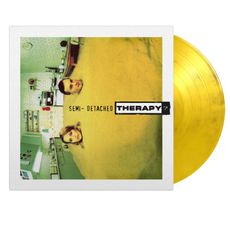 Church Of Noise
Tightrope Walker
Black Eye, Purple Sky
Lonely, Cryin' Only
Born Too Soon
Stay Happy
Safe
Straight Life
Heaven's Gate
Don't Expect Roses
Tramline
The Boy's Asleep
Therapy?
SEMI-DETACHED (25th anniversary edition)
music on vinyl
'Semi-Detached' is available for the first time as a full-length vinyl LP, celebrating its 25th anniversary.
For their fourth album 'Semi-Detached', which was released in 1998, the line-up included Graham Hopkins and Martin McCarrick as full-time band members while Fyfe Ewing left the band before recording. The album features the singles "Church Of Noise" and "Lonely, Cryin' Only" and the final single "Stay Happy".