other titles...
See also...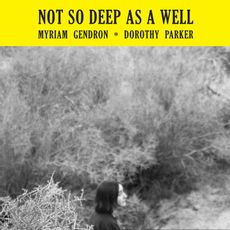 Threnody
Solace
The False Friends
Ballade of a Great Weariness
Bric-á-brac
Recurrence
The Red Dress
The Last Question
Not So Deep as a Well
Song of Perfect Propriety
The Small Hours
Myriam Gendron
Not So Deep As A Well (2023 reissue)
basin rock
A beautiful and timely revisitation for this poetic folk album which appeared as if out of nowhere almost 10 years ago.
nearly 10 years since its initial release, Myriam Gendron's cult classic debut finally gets a full European release, expanded with 2 new tracks not on the original version. Equal parts soft and sorrowful, Myriam Gendron's stunning 'Not So Deep As A Well' LP became something of a sleeper hit upon its initial release back in 2014. Her debut album shone a warm lamp-light glow upon a curious and captivating new voice in the Quebecois folk world. Recorded alone in her apartment, with no knowledge of sound engineering, it could almost be a lost artefact, a dust-lined document of a forgotten time and place. Taking the poems of Dorothy Parker, whose work Gendron stumbled upon by chance in a Montreal bookstore, she imbues the words with a graceful, gentle expression, a lingering sense of sorrow always present. A stark, spellbinding collection, 'Not So Deep As A Well' is raw and unyielding in so many ways we no longer expect to hear. As if sitting in the room with her, Gendron's voice is cracked and unadorned, quietly forced into a push and pull between the quietude of the songs and the noisy world outside.