other titles...
See also...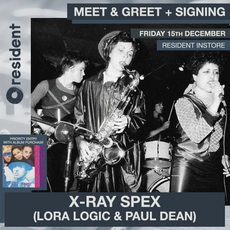 cigarettes
junk food junkie
crystal clear
india
dog in sweden
hi chaperone
good time girl
melancholy
sophia
peace meal
prayer for peace
party
X-Ray Spex
'Conscious Consumer' Meet & Greet + Signing with Lora Logic & Paul Dean
at resident music, brighton - friday 15th december 2023 (all ages - under 14s can come for free)
to celebrate 'conscious consumer's wax debut, lora & paul are heading our way for a meet & greet + signing here in the shop
please note this is an in-person signing only & we will not be able to get copies signed in your absence.
• running timings : 6:00pm start.
• no actual tickets are issued for the show – you will get an order confirmation & your name will be added to the guestlist - you'll just need to give your name on the door.
• as this event is on release day, you will be able to collect the album at the show.
• please wait for an order notification to show your album is ready to collect before coming in to collect your copy.
• priority entry will go those who purchase the album with instore access. if we have space for additional entries on the day, we will be able to let extra people in.
• this page is for entry to the x-ray spex meet & greet - to purchase copies of 'conscious consumer' without event entry, please head here.