THE BLACK KEYS
el camino
NONESUCH
---
with danger mouse back on board, Patrick carney & dan auerbach's punchy blues-rock goes & gets all funky.
'El Camino' boasts a no-nonsense brilliance - The pace is fast, the mood is upbeat, the choruses unfailingly stadium-sized. they churn up that dustbowl road like an ice breaker but it's not the northwest passage they're seeking…it's a siren's song that has it's hooks into auerbach, who thrashes & funks his way back towards the women with whom he gets entangled, enraged & exhausted. these songs, which are universally exhilarating, follow themes of break-out-&-run travel, addictive women & toxic relationships with their factory blues & farmhand funk stomps. "for all the scuffs & bruises – dropped drumsticks, filthy riffs, rusted metal – 'el camino' is beautifully put together…never losing its grimy old-school identity" - 5/5 mojo, "triumphant" 4/5 – uncut.
natasha recommends : having been pretty obsessed with this lot years ago & loving every second of the rawkus show i saw them play at the then-pressure point / richmond, i was devasted when they got involved with dangermouse & let him totally bland out their thrilling blues-rock sound. like the white stripes, singer/guitarist dan auerbach & drummer patrick carney had been able to create enthralling & devastating records with just the 2 of them but once the mouse joined the party on 'attack & release', it felt like the party was over. however, it was simply impossible to resist the funky album opener 'lonely boy' (especially when it makes my son leon dance like a nutter) & it turns out, the rest of the album is flippin' awesome too! i might even have to forgive the rodent for his previous heavy handed production & revisit the albums i'd written off but for now, 'el camino' is totally hitting the spot.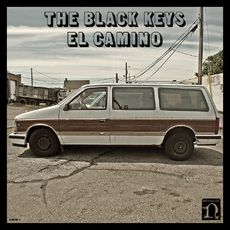 Tracklist
Lonely Boy
Dead And Gone
Gold On The Ceiling
Little Black Submarines
Money Maker
Run Right Back
Si
Hell Of A Season
Stop Stop
Nova Baby
Mind Eraser