Deerhoof
Reveille
Polyvinyl Records
---
reissue of the much-loved deconstructionist art-pop outfit's 4th record, mixing instrumentals with their usual charm.
part no wave skronk, part yoko ono meets the b-52's, & part weirdo j-pop, on 'reveille' we find helter-skelterish flare-ups with primitive casio-like bloops & bleeps, angular fizz-pop guitars, & epileptic drum freakouts & songs featuring matsuzaki's purring falsetto which have an undeniable simplicity & sugar-soaked sweetness. "offers plenty of clattering fury-- just not as much as you may be used to. this time around, the gleeful chaos of their last 2 christmas cards from the asylum has been tempered into something more endearingly bizarre." 4/5 – pitchfork.
leo recommends: "a beautiful reissue, on 180g blue vinyl no less, of the mighty san francisco art rock giants' 2002 masterpiece of chaotic, angular riffs, crashing drums & breakneck structures, topped with some of the cuddliest vocals you've ever heard. i was 16 when this album came out &, passed onto me by an older friend, i have always considered it a cornerstone of my musical education, so found this reissue particularly exciting & wonderfully nostalgic. sinking back into the album, i was pleasantly surprised at how fresh it still sounds & how much it exemplifies the sheer joy & eccentricity that made me fall in love with deerhoof. in fact 'this magnificent bird will rise' is undoubtedly among my favourite tracks ever laid to wax."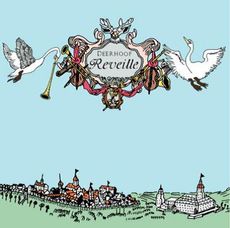 Tracklist
Sound The Alarm
This Magnificent Bird Will Rise
The Eyebright Bugler
Punch Buggy Walves
no One Fed Me So I Stayed
Frenzied Handsome, Hello!
days & Nights In The Forest
Top Tim Rubies
Hark The Umpire
Our Angel's Ululu
The Last Trumpeter Swan
Tuning A Stray
Holy Night Fever
All Rise
Cooper
Hallelujah Chorus