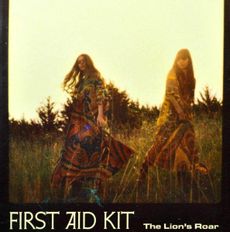 The Lion's Roar
Emmylou
In The Hearts Of Men
Blue
This Old Routine
To A Poet
I Found A Way
Dance To Another Tune
New Year's Eve
King Of The World
FIRST AID KIT
The Lion's Roar
Wichita Recordings Ltd
a bewitching & jaw-dropping album of arresting melodies inhabited with a huge, wise spirit - the most beautiful swedish americana album you'll ever hear – on a par with alela diane's debut masterpiece.
the mighty arrangements were brought to fruition by bright eyes/jenny lewis producer mike mogis, but there is nothing precocious or forced in these delicately melancholic evocations of wide open country landscapes, smoky mountainous folk & the flight of their eerie nighttime ballads; kin to the fleet foxes in sheer beauty. recorded in nebraska with help from conor oberst, their vivid, romantic songwriting has little to match it. on 'emmylou', they sing "i'll be your emmylou & i''ll be your june, if you'll be my gram & my johnny too" & they're well worthy of the comparison. "a remarkably mature work that mixes up surging psychedelia, roughshod country & fireside ballads" 4/5 – uncut.

***the deluxe boxset edition comes packaged with 3 bonus tracks (two exclusive to this format) on the CD, as well as a DVD which features an exclusive tour documentary & three promo videos. The discs are packaged in a digipak which comes with a fold-out poster, expanded 20 page booklet and a First Aid Kit guitar pick. All this is contained within a lift-off lid box. Both formats, including the regular cd version of this special edition feature the bonus track 'Wolf'.***

derry recommends : i loved the first 2 releases from the soderberg sisters but this is something even better, with stronger songwriting, even more stunning vocal harmony before & the folk influences now blended with a much stronger country influence, particularly on the single 'emmylou' which sums up where they're at now. turns out that the true follow up to alela diane's masterpiece 'the pirate's gospel' is actually not by alela at all but by first aid kit. a beautiful, beautiful record.