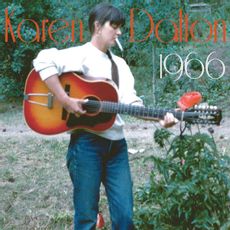 Reason To Believe
Katie Cruel
Cotton Eyed Joe
Green Rocky Road
Don't Make Promises
Other Side To This Life
God Bless The Child
Little Bit Of Rain
While You're On Your Way
2:19 Train
Misery Blues
Mole In The Ground
Shiloh Town
Hallelujah
karen dalton
1966
delmore recordings
newly unearthed tapes from '66 find the folk-blues legend unadorned & unburdened by studio production, just banjo & guitar used to heartbreaking effect.
recorded in her colorado cabin, these long lost reels allow an intimate & unfiltered portrayal of the remote & elusive songwriter. there are sparse renditions, including 4 duets with richard tucker, which are in many ways superior to the 2 studio albums that were coaxed from her, capturing these songs as she perhaps intended them to be heard. as well as the covers she delivers traditional songs including a devastating version of 'katie cruel', that is so powerful, it is as if the ghost of katie cruel seeped into her blood. "the old-timey accompaniment & dalton's bluesy vocals perfectly suit hardin's exquisitely sad songs" 4/5 – uncut.
daniel recommends: "utterly essential early home recordings from the enigmatic & elusive dalton, engrossing & heartbreaking. i have to admit to never really "getting" dalton's two studio albums, 1969's 'it's so hard to tell…' & 1971's 'in my own time' (controversial, i know). the overly produced lush studio sound seemed a bit oppressive, draining her incredible voice of a lot of its colour, & my impressions probably weren't helped by the well-reported fact she was notoriously reluctant to record anything in a studio. this collection however, is totally mindblowing. it consists of recordings of her & richard tucker rehearsing for a gig in their remote colorado cabin. stripped back to just guitar / banjo & voice, the songs gain a remarkable power, with the likes of tim hardin's 'reason to believe' & the traditional 'katie cruel' becoming even more devastating. her vocals have the power & emotion of the classic blues & gospel singers, with the delicate, melodic intricacy of a lot of her contemporaries in the folk scene, & these are the recordings on which, for me, she truly shines."