x-o-dus
english black boys
ltm
---
collecting both sides of the highly political, progressive reggae band's lengthy single 'english black boys' with 7 1980 album demos.
the first cd by manchester reggae band x-o-dus, who released their only single on factory records in the late '80s, they were never to record an album, finding it hard to make a name on an experimental art rock label. it's a shame, for aside from the stunning single, the 'rainy city reggae' penned by the group is highly distinctive; dubbed out, atmospheric & gloomy, free from the religious dogma typical of other reggae bands at the time. a sadly overlooked band but a worthy revival on this essential collection.
matt recommends : this classic early factory records 12" gets fleshed out with 7 lost demo tracks that were scheduled for an album that unfortunately never materialised & gives us a glimpse into what could have gone down as one of the best british dub albums of the early 80's. with production being handled post-punk-dub legend dennis bovell (the slits, the pop group) this was always going to be an absolute gem. tough summer vibes.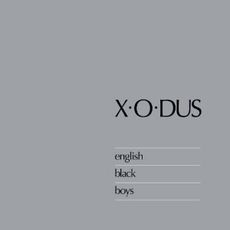 Tracklist
See Them A' Come
English Black Boys
If You Want My Lovin
Take It From Me
Society
Leaders
Imagine
We Can Feel It
Dance