slug guts
playing in time with the deadbeat
sacred bones
---
a record that sounds menacingly desperate, ugly & malnourished, drawing on Australia's rough & agitated pub rock history.
taking dregs from Australian cult icons Feedtime & Venom P Stinger. 'Playin' In time With The Deadbeat' was written during a year which saw members of this 7 piece endure trips to the mental hospital, jail, court trials, death, rehab, & bouts of violence following thousands of kilometers spent in a van. From the cacophonous gallop of opening track 'Scum', to the hit single potential of 'Adult Living' it is clear the band, have grown heaps as both writers & players. a focused, damaged & unique opus.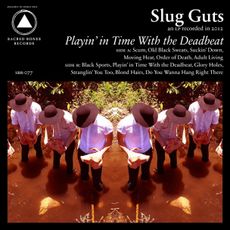 Tracklist
Scum
Old Black Sweats
Suckin' Down
Moving Heat
Order of Death
Adult Living
Blacksports
Playin' in Time With the Deadbeat
Glory Holes
Stranglin' You Too
Blond Hairs
Do You Wanna Hang Right There.