MADNESS
one step beyond
let them eat vinyl
---
their 1979 debut was a musical roller coaster, a tear through a musical house of mirrors, along the way madness grab streamers of ska & rocksteady & stuff them gleefully into their baggy trousers.
actually the trousers were yet to come, but 'one step beyond' dragged listeners kicking & screaming into a wacky world of their own creation. it still sounds like nothing else on the planet, even though its influences were waved pennant like from the band's hands – prince buster, of course, & the sheer freneticism of early jamaican ska & punk's raging fire. &, just as evident, english music hall, augustus pablo's far eastern sound, brit beat pop, the slinkier side of swing & the funnier side of classical ballet, military marches & dad's army, funfairs & keyboard riffs on an oktoberfest tour of the german beerhalls.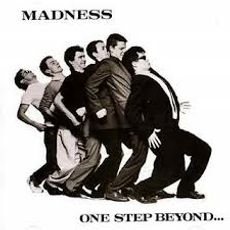 Tracklist
One Step Beyond
My Girl
Night Boat to Cairo
Believe Me
Land of Hope and Glory
The Prince
Tarzan's Nuts
In the Middle of the Night
Bed & Breakfast Man
Razor Blade Alley
Swan Lake
Rockin' in A♭
Mummy's Boy
Madness
Chipmunks Are Go!