destruction unit
deep trip
sacred bones
---
Morphine boogie for the 21st century noise addict - Destruction Unit are an American band formed in the Sonoran desert of Arizona.
Formed by Ryan Rousseau, they awere initially a synth-heavy 3-piece whose other members were Jay Reatard & Alicja Trout (Lost Sounds); likewise Rousseau was also in the Reatards before Jay went solo. Born out of the nucleus of the Memphis Goner Records scene & transplanted into Tempe, AZ, Rousseau has grown the band in the last few years into a full sonic assault. 'Deep Trip' is their 1st proper studio album, produced by Ben Greenberg of The Men, Hubble & Pygmy Shrews at Vacation Island in NY.

daniel recommends : "death valley psych played at hardcore speed & intensity, a peyote fuelled trip down the rabbit hole".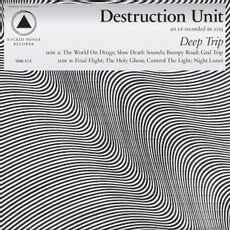 Tracklist
The World On Drugs
Slow Death Sounds
Bumpy Road
God Trip
Final Flight
The Holy Ghost
Control The Light
Night Loner