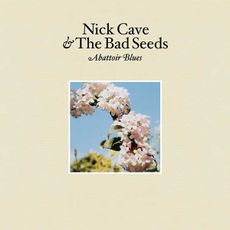 Get Ready For Love
Cannibal's Hymn
Hiding All Away
Messiah Ward
There She Goes, My Beautiful World
Nature Boy
Abattoir Blues
Let The Bells Ring
Fable Of The Brown Ape
The Lyre Of Orpheus
Breathless
Babe, You Turn Me On
Easy Money
Supernaturally
Spell
Carry Me
O Children
Nick Cave & The Bad Seeds
Abattoir Blues / The Lyre of Orpheus
Mute/BMG
*** RESIDENT ALBUM OF THE YEAR - 2004 ***

two completely different albums packaged as one fantastic collection, recorded in a total of 16 days by producer Nick Launay (Kate Bush, Midnight Oil, Girls Against Boys, Silverchair, INXS, Virgin Prunes, et al).
'Abbatoir Blues', the first disc in the set (packaged in pink, of course), is a rock & roll record. Yeah, the same guy who released the 'Boatman's Call', 'No More Shall We Part' & 'Nocturama' albums has turned in a pathos-drenched, volume-cranked rocker, full of crunch, punishment - & taste. Drummer Jim Sclavunos' aggressive, propulsive kit work is the bedrock of this set. It and Mick Harvey's storm-squall guitar playing shake things loose on "Get Ready for Love," which opens the album. As Cave goes right for God in the refrain -- "get ready for love" -- in the maelstrom, a gospel choir roaring "praise Him" responds. His tense, ambivalent obsession with theology is pervasive; he mocks the Western perception of God in the heavens yet seeks the mystery of His nature. That he does so while careening through a wall of noisy rock damage is simply stunning. It leaves the listener revved up and off-center for what comes next. The chorus -- members of the London Community Gospel Choir -- is prevalent on both records; the Bad Seeds' arrangement utilizes them wisely as counterpoint and mirror for Cave's own baritone. "Cannibal's Hymn" begins as a love song musically; it's chocked with Cave's dark wit and irony and ends far more aggressively while retaining its melody. The single, "Nature Boy," finds itself on Scalvunos' big beat. Cave and his piano use love's irony in contrast with cheap innuendo as underlined by the choir in their best soul croon. "Let Them Bells Ring" is a most dignified and emotionally honest tribute to Johnny Cash and the world he witnessed. The Western wrangle of "There She Goes, My Beautiful World" references Morricone's desert cowboy groove against a swirling cacophony of drums, bashing piano, and the chorus swelling on the refrain, while Cave name drops Johnny Thunders and poet Philip Larkin. The pace is fantastic; its drama and musical dynamics are pitched taut, with lulls in all the right places.