JIM WHITE VS. THE PACKWAY HANDLE BAND
TAKE IT LIKE A MAN
yep roc
---
white initially intended to produce an album for the PHB, but the project turned into a co-starring effort, resulting in a brilliant collision of fatalism & upbeat mountain reels.
the meet-up brings out the best in all parties concerned. While tunes like 'Not a Song' and 'Gravity Won't Fail' could easily sound grim given the downbeat tone of their lyrics, with the Packway Handle Band on hand, the songs have a beer-infused backyard charm that blesses them with a healing humanity. worth a listen if you like artists like johnny dowd, howe gelb or willard grant conspiracy. "like most everything white does, 'take it like a man' is a discourse that demands attention" - 8/10 mojo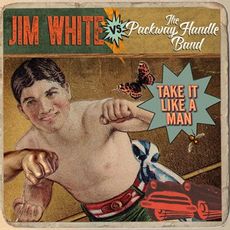 Tracklist
Smack Dab in a Big Tornado
Breathing Room
Corn Pone Refugee
Not a Song
Jim 3:16
Gravity Won't Fail
Wordmule Revisited
Paranormal Girlfriend
Blood on the Fiddle, Blood on the bow
Sorrow's Shine
Sinner!