Sufjan Stevens
carrie & lowell
Asthmatic Kitty Records
---
this moving, raw stunning album from the best songwriter in a generation sees him return to his 'seven swans' & 'michigan' era acoustic roots with banjo, guitar & quivering vocals.
named after his parents, the album delves into his childhood and relationship with his family in a stark way, but always matched with his innate sense of melody & staggeringly gifted craftsmanship. the brilliant 'the only thing' sees Sufjan ask if he's ever been loved, for example, whereas several songs mention god, a recurring theme in his music but not in any grating or preachy style. "a delight in every way, and an album of the year" - 5/5 Guardian. "a stark, sublime immersion in immediate memory" - 9/10 uncut
James canham recommends: he talks about his swimming instructor at school calling him subaru and somehow makes it sound heartbreaking and if that's not a sign of this man's poetic talent then i don't know what else i can say.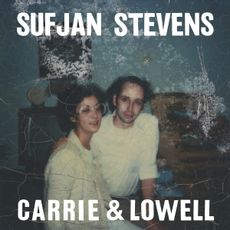 Tracklist
Death With Dignity
Should Have Known Better
All of Me Wants All of You
Drawn to the Blood
Fourth of July
The Only Thing
Carrie & Lowell
Eugene
John My Beloved
No Shade in the Shadow of the Cross
Blue Bucket of Gold