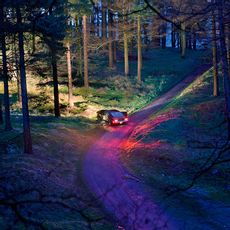 Introduction
running Wild
Never Awake
What Can Do What We Want
Favourite Son
The Snake
Side By Side
The Woods
Undertow
Standing In The Cold
Have You Forgotten My Name?
Drenge
undertow
Infectious Music
the loveless brothers may be a little less angsty & gnarly than when they released their raucous 2013 debut, but they still make an exhilarating punk-rock racket that gets the adrenaline pumping & the tunes pounding your brain relentlessly.
bassist rob graham (of wet nuns) joins the duo on 3 tracks to flesh out the sound further & although the record is decidedly poppier & more focussed (in the main due to them embracing production), they remain edgy, punchy & commanding. "Drenge are still mighty pissed off, but they've channelled that mardiness into impressive progression...the UK's most brilliantly disorderly band" 9/10 - nme, "Their 2nd album continues the work of the 1st, a yardstick for the heavy guitar sound, & is in its own way as hard hitting, visceral & effortlessly brilliant. An endorsement ringing like my ears" 8.5/10 - the line of best fit.