Follakzoid
III
sacred bones
---
come & get into the groove once more with the trance-enducing experience that childhood friends Diego, Juan Pablo & Domingo (from Santiago, Chile) have become so adept at making.
Heavily informed by the heritage of the ancient music of the Andes, the band has learned to integrate this influence with contemporary sounds of their times, creating a rich yet minimal atmosphere. For 'III', the band wanted to expand their sound while building an atmosphere with mainly monochords & reiteration. they partnered with German electronic maestro Atom TM to flesh out the album's synth parts - Most of the sounds he provided were atonal electronic sounds, aiming for concrete frequencies & sampled organic glitches. 'III' is a 4-part minimal sound voyage in which you can hear Föllakzoid's musical language developing into something more upbeat, obscure & sharp, yet even simpler in terms of elements. awesome!
james canham recommends: really really heavy psych krautrock grooves full of bass and with a real atmospheric, almost soundtrack quality
ian recommends: looping krautrock that very slowly pulls you in to their menacing trance like state.
christian recommends: massive massive bass and ceaseless cycling psychedelic rhythms - this is an album to lose yourself in and never quite come back.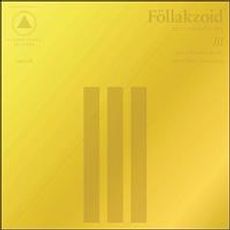 46
Tracklist
Electric
Earth
Piure
Feuerzeug