Adrian Younge Presents : Ghostface Killah
12 Reasons To Die II (The Instrumentals)
Linear Labs
---
soul-jazz maverick younge is one of the few current producer-arrangers who justifies a version of the new ghostface killah collaboration sans the vocals.
strongly influenced by leftfield soundtrack masters ennio morricone and goblin, as well as classic blaxploitation soundtracks, younge's dense, all-played, no-samples-allowed backdrops for ghost's latest tony starks yarn will fascinate black music fans who might not check for the criminally-minded raps, as well as those who just gotta have both!
*also available as bonus disc in deluxe version of the vocal set.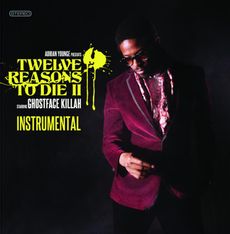 Tracklist
Powerful One
Return Of The Savage
King Of New York
Rise Up
Daily News
Get The Money
Death's Invitation Interlude
Death's Invitation
Let The Record Spin Interlude
Let The Record Spin
Blackout
Resurrection Morning
Life's A Rebirth