EYEDRESS
Shapeshifter
Headcount / Babe Slayer
---
sprawling, genre-agnostic, inventive & strange with some unusual guest spots.
Some you'll have heard of like the aforementioned King Krule & Sporting Life from Ratking with rapper ThisIsDa on the tune "Sports," others less so, like Jiin (a Canadian of Korean descent) & Pyramid Vritra and his friend Tyler Major who are based in LA. The vibe is very international & of course it's all thanks to the internet. Stems & ideas traded, with Eyedress playing, recording, producing & stitching it all together in his Manila bedroom.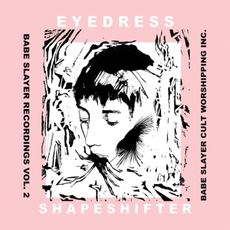 Tracklist
Return of The Wicca Mane
Add to The Peace
Lies tear Us Apart
Future Without You
Secret Agent On Vacation
Trust the Process
When The Planets Align
Ghost Whip
1990
Danger There
Witch Bitch
Sports
Don't Trust Them
Patience Is Better Than Love
The Sexorcist
Superficial Paradigm
Night Sky
Watch Your Front
You Make Me Feel
Sweet Apple Smile.