pj harvey
the hope six demolition project
island
---
harvey's ninth album is an anthemic and intense record about the world in 2016; taking the temperature of our times as she recounts all she saw during her travels to Kosovo, Afghanistan, and Washington DC - "I took a plane to a foreign land / and i said I'll write down what I'll find" she sings on 'the orange monkey' and on this record she does that and so much more.
this is no mere travelogue though; it's a protest, a call to arms, a spectacular collection of songs that detail the injustices around the world in the way only pj harvey could. recorded in full view of members of the public at Somerset House in 2015, the album collects all of harvey's influences and pulls them together; interweaving saxophones, greek choruses, martial drums, a guest spot from linton kwesi johnson and spiritual songs of old (listen out for 'wade in the water' during 'on river anacostia') to wonderful effect, with every song still containing the hooks, melodies and unbearably catchy choruses she's always been able to conjure up like no one else. this is a modern classic. "the geopolitical web might be too tangled for anyone to unpick, but by focusing on the details, strong, clear and compassionate, harvey once again means the world." - 4/5 mojo

tom recommends: "An anthemic and intense record about the world in 2016; one experimental (and catchy) pop song at a time. Harvey's most unique record yet"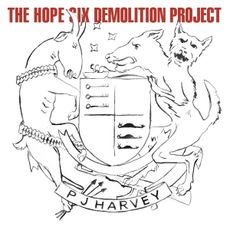 Tracklist
The Community of Hope
The Ministry of Defence
A Line in the Sand
Chain of Keys
River Anacostia
Near the Memorials to Vietnam and Lincoln
The Orange Monkey
Medicinals
The Ministry of Social Affairs
The Wheel
Dollar, Dollar