Iggy Pop
POST POP DEPRESSION
Caroline
---
Josh Homme is the perfect foil for the anarchic pop here, acting as a desert rock bowie to iggy's unpredictable and inimitable piloting.
we're blown away by it all - there's stomping queens of the stone age rhythm stripped of its middle to allow pop to throw a haunting baritone scott walker impression through the middle on 'vulture', 'the idiot' run through a filter of blue cheer if they soundtracked 'fear and loathing in las vegas' on 'Sunday' and the mutant blues romp of 'Paraguay' that strives to come off the rails in more than one place. more prominent than anything else on the album though is the feeling that pop has finally found his groove again – in this band of renegades from the fringes of heavy rock he's found purpose and drive again. "grimly compelling" – 8/10 uncut; "every bit as startling [as david bowie's 'blackstar'], both in sound and end-of-days openness" – 4/5 mojo

Ian recommends: "Seemingly out of nowhere Iggy comes out with a massive sounding album that could have been written and recorded any time in the last 40 years. In a year when too many legends have passed, hearing Iggy scream 'take your motherfucking laptop and shove it into your goddam foul mouth' gives me a warm comforting feeling"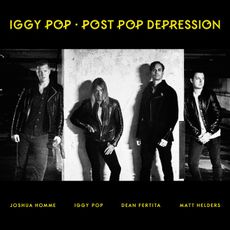 Tracklist
Break into Your Heart
Gardenia
American Valhalla
In The Lobby
Sunday
Vulture
German Days
Chocolate Drops
Paraguay