ANOHNI
HOPELESSNESS
Rough Trade
---
rich, expressive vocals are set amongst lush electronic compositions to deliver glowering future pop that perfectly fuses the styles of her talented co-producers Hudson Mohawke & oneohtrix point never.
through the dancefloor friendly r&b & hip hop productions of the former & the glitchy, ever-shifting auralscape of the latter, the album carves out a unique place in the saturated landscape of electronic pop. concerned with surveillance, drone warfare & ecocide, she disrupts assumptions about popular music through the collision of electronic sound & highly politicised lyrics. "generous of spirit & cutting-edge of sound, 'hopelessness' is a statement for our times, & one that will not be easy to dismiss" – 8/10 uncut

Sinead recommends: "The soundtrack to my neoliberal dystopian present"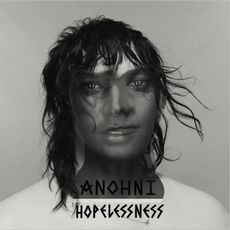 Tracklist
Drone Bomb Me
4 Degrees
Watch Me
Execution
I Don't Love You Anymore
Obama
Violent Men
Why Did You Separate Me From The Earth?
Crisis
Hopelessness
Marrow