The Coathangers
Nosebleed Weekend
Suicide Squeeze
---
dynamic garage punk from the atlanta trio that bursts with catchy hooks, choppy chords, raspy vocals and, most importantly of all, fun.
Ten years in and still going strong, their palette has expanded over the years to touch upon hip-shakin' classic rock, soulful country ballads and golden oldies pop, though their primary attack strategy still relies heavily on the jagged hooks and boisterous choruses of their formative years – and this record shows they're all the better for it. "they've managed to retrain a degree of volatility that most seasoned punk bands tend to lose after their fourth or fifth record" – consequence of sound "goes for the gut… their hit-rate is undeniably high" – the skinny

James Cooper recommends: "'Nosebleed weekend' sees the coathangers tapping into a more new wavey - post punky sound while still retaining their classic fun & bad ass sound."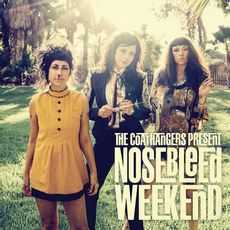 Tracklist
Perfume
Dumb Baby
Squeeki Tiki
Excuse Me?
Make It Right
Nosebleed Weekend
Watch Your Back
Burn Me
I Don't Think So
Down Down
Hiya
Had Enough
Copycat