olafur arnalds
Late Night Tales: olafur Arnalds
Late Night Tales
---
the experimentalism & adventure of electronic music are enriched with a classical sensibility on this expansive, pastoral collection of twilight tunes.
the latest instalment of the hypnagogic series is directed by the Icelandic producer & regular nils frahm collaborator, whose selection of tracks, like his music, has a perfectly germane quietude - each song drifts like an autumn wind towards the next. tracks like Koreless' brilliant post-dubstep 'Last Remnants' shimmer alongside the enigmatic brilliance of Jai Paul - It's a perfect musical landscape that is eerie yet beautiful, as on Odesza's 'How Did I Get Here'. Arnalds has also thrown in some exclusive self-penned tracks & one from his techno side-project kiasmos.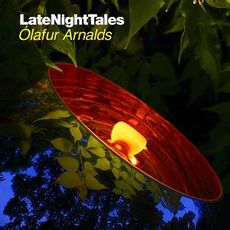 Hjálmar Lárusson and Jónbjörn Gíslason - Jómsvíkingarímur - ýta feldi eigi rór
Julianna Barwick - Forever
Koreless - Last Remnants
Odesza - How Did I Get Here (Instrumental) (Late Night Tales Exclusive)
Anois - A Noise
Samaris - Góða Tungl
Ólafur Arnalds - RGB (Late Night Tales Exclusive)
Rival Consoles - Pre
Four Tet - Lion (Jamie xx Remix)
Jai Paul - Jasmine (Demo)
James Blake - Our Love Comes Back
Spooky Black - Pull
Ólafur Arnalds ft. Arnór Dan - Say My Name (Exclusive Destiny's Child Cover Version)
Sarah Neufeld & Colin Stetson - And still they move
Kiasmos - Orgoned (Late Night Tales Exclusive)
Ólafur Arnalds - Kinesthesia I (Late Night Tales Exclusive)
Hjaltalín - Ethereal
David Tennant - Undone (Exclusive Spoken Word).