British Sea Power
Let The Dancers Inherit The Party
golden chariot  
---
Kevin recommends: "No fillers here - Track after track of rousing, uplifting songs which provide a beacon of positivity in these tumultuous times"

Melodic, direct and brimming with emotional urgency, it's an album where rock muscularity melds with pop immediacy for a completely involving listen.
Across their entire history, they've taken a broad and panoramic perspective that's drawn on historical events while mirroring the ageless wonders of the natural world. the album covers subject matter ranging from the stars in the night sky to the methodology of media manipulation. British Sea Power guitarist Martin Noble says of the album: "It was made to a background of politicians perfecting the art of unabashed lying, of social-media echo chambers, of click-bait and electronic Tonka Toys to keep us entertained and befuddled. All this can easily make the individual feel futile. But I think we've ended up addressing this confusion in an invigorating way, rather than imprisoning the listener in melancholy".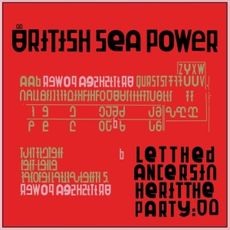 Tracklist
Intro
Bad Bohemian
International Space Station
What You're Doing
The Voice Of Ivy Lee
Keep On Trying
Electrical Kittens
Saint Jerome
Praise For Whatever
Want To Be Free
Don't Let The Sun Get In The Way
Alone Piano