bobs burgers
the bob's burgers music album
SUB POP
---
the Emmy-award winning cult smash animation is notable in part for its slew of charming and hilarious original songs – 107(!) of which appear on all versions of this release, culled from the first 107 episodes.
Originally broadcast within the episodes – and often in abbreviated form – the songs appear here in their freestanding glory for the first time. Many feature special guests from the show, where the likes of Bill Hader, Zack Galifianakis, Cyndi Lauper and Carly Simon lend themselves to bobs burgers universe whole-heartedly. Also included is 5 'Bob's Buskers' cover versions performed by celebrity fans St. Vincent, the National, Låpsley, and Stephin Merritt.
***Deluxe limited-edition 3 LP+7" box set includes a hardbound lyric/art book, a sheet-music book, 3 original posters, a 6-piece sticker pack, and a patch.***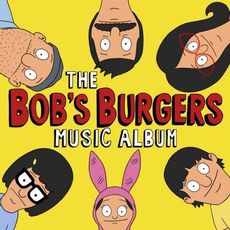 Tracklist
The album has well over a 100 songs on it.. Far too many to list here - but it includes such gems as:
Lifting Up The Skirt Of The Night
The Diarrhea Song
Buckle Up Whisper In Your Eyes
Gravy Boat
We Won The Talent Show
Do The Dirty Pigeon
Bad Stuff Happens In The Bathroom
It's Not Magic It's Tragic! And many many many more...!!!