Orchestra Baobab
Tribute To Ndiouga Dieng
world circuit
---
Stuttering horns, polyrhythmic drums, strings and a stunningly emotive voice, make this one of the best pick-me-up albums we've heard all year.
We're taken from Dakar to Havana again on the iconic Senegalese band's latest outing - their first in 10 years. Continuing to develop a hybrid sound that transcends time and place, their characteristic swaying tunes, Afro-Cuban rhythms and African tradition are fused with the fresh addition of a kora, giving their hypnotic grooves a new twist. It's an utterly irresistible set and without fail, we win over new fans every time we whack it on the stereo on a slow afternoon, as they create an intoxicating, nocturnal atmosphere that's impossible to ignore.
Orchestra Baobab have already been through the full cycle of a band – the rise, the fall, the rebirth. They were musical heroes in Senegal in the 70s before their multi-cultural rhythmic brew fell out of fashion when their foreign sounds clashed with the country's growing sense of Senegalese cultural pride. Years later, Nick Gold, a fan and founder of World Circuit Records (home of Buena Vista Social Club and now also home to Orchestra Baobab themselves), persuaded the band to reunite. Since then they have released just 3 albums but each has been progressively more diverse and exciting.
If you love the deep hues of the impeccable Buena Vista Social Club series, then you'll love the warmth that this record radiates. After 47 years of singing for the local legends, Balla Sidibe would be forgiven for doing what so many stalwarts do and hide his vocals deep in the mix, but Sidibe does nothing of the sort – in this tribute album to the group's longtime member Ndiouga Dieng (who passed away late last year), he delivers an astounding and powerful performance. Honeyed, richly expressive and commanding over the lush layers played beneath him, Sidibe's vocals are one of many standouts here.
Where this record is really successful is in the space it leaves between the chugging and lilting rhythms. Nothing is over-embellished. Years of wisdom and experience handled with a deft lightness of touch that can only come from a band without ego, that want to play together rather than in competition with each other. Truly harmonious.
Fergus recommends: "music is just plain good for the soul - each delicate instrument within the band comes together to create the sound of paradise"

"A charming and classy return...Old-school Africa at its finest" 4/5 - the guardian.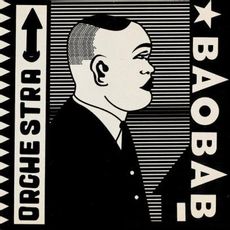 10
Tracklist
Foulo
Fayinkounko
Natalia
Magnokouto
Mariama
Woulinewa
Sey
Caravana
Douga
Alekouma